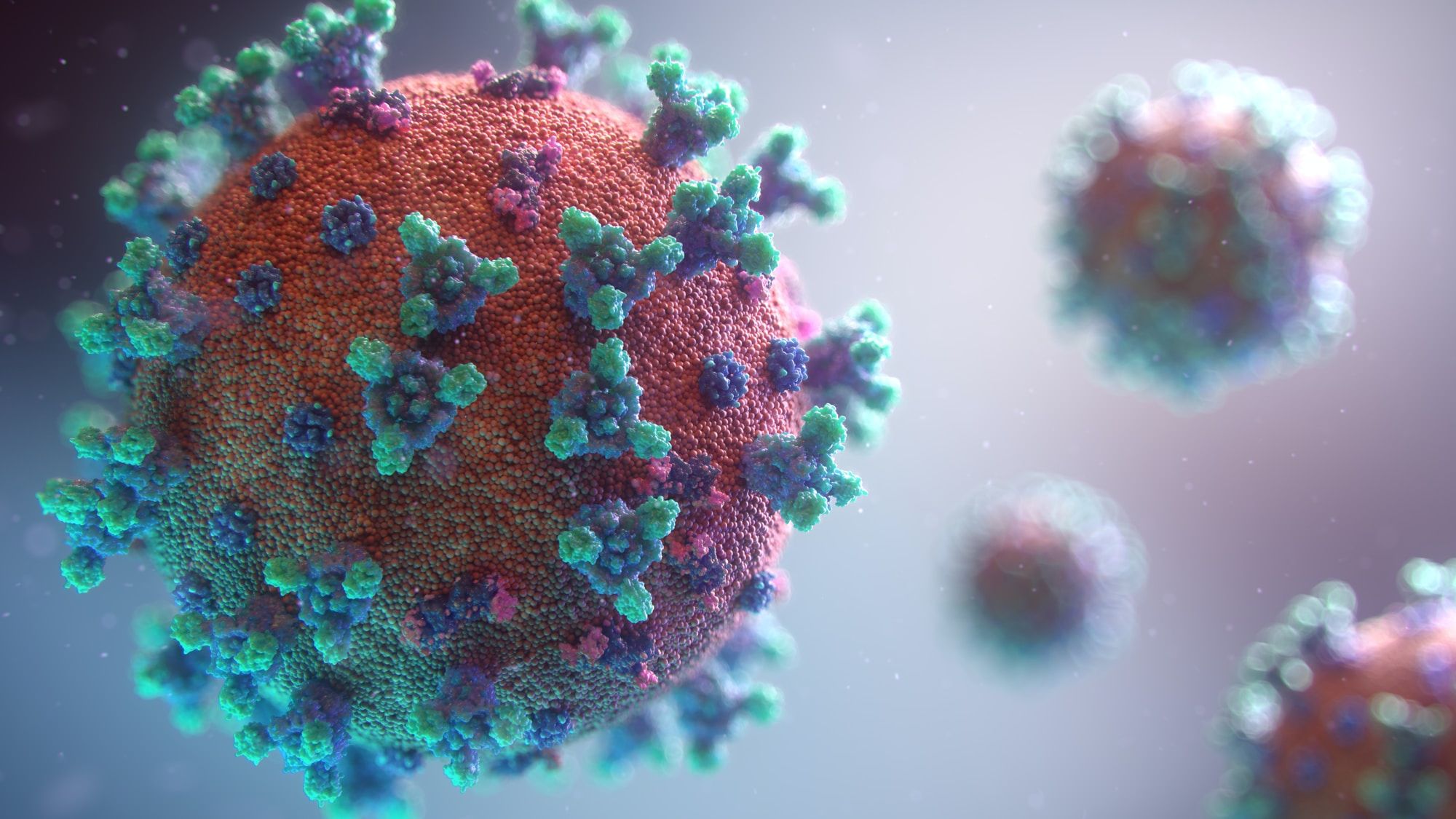 UPDATE 09/07/2021 Relaxation of COVID restrictions
On Monday 19th July, the government will lift many of the Covid restrictions we have been living under since March last year. For many businesses and individuals, this will involve many changes to how they operate
Due to the nature of the small enclosed space of your training vehicle, the wearing of masks and pre-lesson temperature checks will continue until further notice
There will be some changes to the paperwork, but these will be minor and your signature will still be required
Steve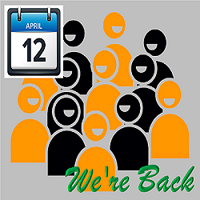 UPDATE 06/04/2021 Restart on the 12th April confirmed
Over the last 4 weeks, I have been inviting you all to get in touch and book your lessons. A few of you have yet to do so, meaning the availability of lessons is already reduced, so if you haven't yet, get booked in now
With the longer daylight hours, and improvements made to the hygiene materials and procedures, I have managed to increase availability from 2x2hr slots to 3x2hr slots per day (excluding Fridays). This means there will be 14 slots available per week rather than 10, and these will be daily at 9am, 12pm and 3pm (no 3pm on Fridays)
To keep this post short, here are some questions I have anticipated you may have. Click on the question for an explanation
If there are any other questions you have that are not covered in the above, please get in touch, and don't forget to BOOK YOUR RESTART LESSON
Regards
Steve
t. 07736389636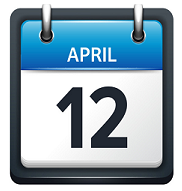 UPDATE 26/03/2021 Restart on the 12th April
Lesson re-start is still on schedule for Monday 12th April, pending no further conditions being imposed by the government
Rescheduling the lesson diary is proving to be a challenge as I am still waiting for a number of you to make contact. Please don't assume that everything will be as it was because although I have made some progress with lesson availability and the hygiene slots, there are still fewer slots available per week than there were pre Covid. Your schedules will have changed and so has mine, so PLEASE get in touch as soon as possible, the lesson choice will become more limited as time goes by. (I am putting names in slots to avoid overbooking, but we need to communicate to ensure we have a fit
The DVSA and its new Chief Officer issued an email to all instructors this week. You can view the lengthy detail of this update by visiting https://bit.ly/2NTAWO8, but the 3 main points are detailed below:
1. There are currently 420,000 car tests in the backlog and the national average waiting time for a driving test is 17 weeks
2. We know this will pose challenges for everyone in the coming weeks. We'll do all we can to reduce the backlog safely and as quickly as possible to help the driver training industry recover. We plan to do this by testing as many people as we can, as soon as we can
3. We are also planning to run a campaign to encourage learners to take their test only when they are confident they can pass. This will help them to avoid a lengthy wait for a retest and help us by not adding to the backlog of tests
On you first lesson back, the paperwork and checks will continue for the time being, as will practices inside the car
Steve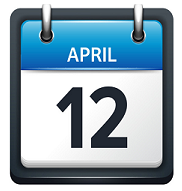 UPDATE 16/03/2021 Restart on the 12th April
Lesson re-start is still on schedule for Monday 12th April, pending no further conditions being imposed by the government
Rescheduling the lesson diary to get everyone back up and running as soon as possible after this date is going to be the next challenge, therefore I would like to ask everyone to make contact by email, SMS or call with your availability for lessons as soon as possible (bear in mind the more availability you have, the easier it will be fit you and everybody else in)
For my part, I will look to increase the number of lesson slots available if necessary. Longer daylight hours are one of the factors making this possible, but the current hygiene regime will remain in place for now. I have sourced, but not yet been able to test, a new solution for the fogging machine I use to sanitize the airways in the car, which claims to work for 48hrs. I am awaiting guarantees from the manufacturer that substantiate their claims that this time period is effective
Finally, for those of you with re-arranged test dates. I know this has been a very frustrating time for you, but we have always been constrained by government advice and the actions of the DVSA regarding tests. Your test bookings are now around JUNE/JULY time. I always plan for and hope everyone gets through their driving test first time and do everything possible to ensure you are well prepared for it, but it is a stark fact that nationally, more than 50% of driving tests result in a failure. If anyone is unfortunate enough to be in this group, the estimated waiting list for another attempt is OCT/NOV as the waiting list for tests is currently 4 months and this will get longer when the DVSA open up the system for new bookings
The same is true for all new driving test bookings, so for the foreseeable future, the earliest anyone can expect a test booking will currentlly be around 4 months+, and remember that you are not eligible to book until you have passed your theory test, so for those of you who haven't yet done so, make passing your theory test as soon as possible, or you might have to buy me a Xmas card :)
Steve

UPDATE 23/02/2021 Driving Lessons and Testing Restart Details
Yesterday, the government announced details of the proposed lifting of the current lockdown measures, the first of which was that children and students would resume their education from Monday 8th March with some additional minor measures regarding social interaction on 29th March
Further structured easings are planned for April 12, May 17 and June 21 and the finer details of what and who is to be included on these dates are widely available on the internet, what concerns us here, is which date will apply to us regarding driving lessons and testing
Obviously, we would hope to be able to resume normal working practices on April 12th. As yet, there is no definitive clarification on this, but we hope it will not be too long before this is confirmed. It is worth remembering that these proposed dates are conditional that nothing changes to affect the continued improvement in the overall situation
I would be obliged if all current clients would contact me to confirm that they are aware of the planned resumption of training which I am targetting for Monday April 12th, unless or until information to the contrary is received
Steve
21st Century Driving
So why not restart lessons now?
These images might help you to understand this decision, which was made at the end of the November lockdown and has not changed. Tier 3 did not meet the requirements of our risk assessment that lessons have been delivered under since August, the situation remains the same
The bordering Tier 4 area (East Lindsey) surrounds NE Lincs, which is effectively Grimsby, Cleethorpes and Immingham. It is an arbitrary line which the virus neither recognizes nor respects. For example, Tetney (Tier 4) Humberston (Tier 3), Riby (Tier 4) Laceby (Tier 3), Holton-le-Clay (Tier 4) Waltham (Tier 3).
Grimsby and Cleethorpes is the second most densely populated part of the 2nd largest county in the country, and no algorythm or government slide is needed to know that local infection rates are now under severe pressure and we all need to be extremely careful
Stay safe, and please contact me if you have any questions
Steve
21st Century Driving
On Saturday 31/10/2020 the Prime Minister announced that England would be returning to a nationwide lockdown for 4 weeks
The effect on driver training and testing was confirmed yesterday (02/11/2020) by the DVSA in an announcement that "Driver and rider training and testing will be suspended in England from 5 November to 2 December 2020"
This is a clear directive and is not open to mis-interpretation. So, all lessons and tests will stop effective 00:01 on 05/11/2020 and WILL NOT resume until 00:01 on 03/12/2020 at the earliest
There are no exceptions. We will, of course be adhering to this directive as issued by the driving instructors governing body. Please feel free to contact us through the usual channels if you require any further information. Thanks, Steve
Our hygiene protocols were written along the same lines as our comprehensive car maintenance program. That is to be in the best condition we can present it for lessons, hence it is looked after under contract by the local Ford dealership
When it comes to hygiene, we adopt the same ethos and aim to be the best we can be. Our financial investment in equipment to achieve this was considerable, but necessary. The more costly, and ongoing investment is in time. The cleaning process we use takes 1½ hours to thoroughly clean and sanitise the car. Two 15 minute travel windows bring the hygiene slot up to 2 hours. For more details, click here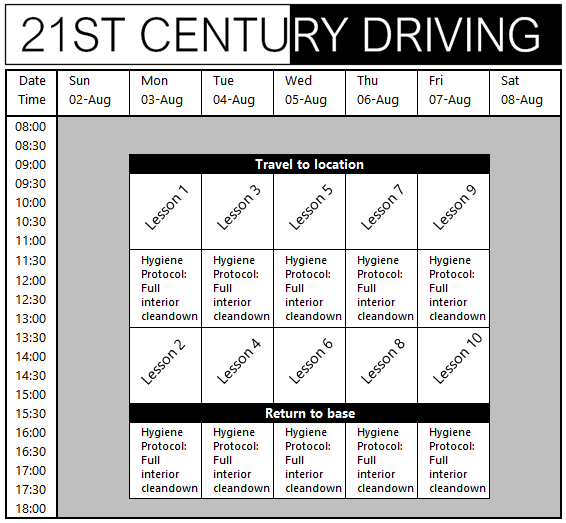 Our new working practices mean that we only schedule 2 x 2hr lessons daily from Monday to Friday at 0930 and 1330 (Other lesson times may be available (at a premium rate), but all will be for a minimum of 2 hours to make the 2 hour preparation window viable). This is to ensure that we have time for a thorough cleaning and sanitising protocol between EVERY LESSON
It is a decision that has not been taken lightly, but with only the vaguest guidelines issued by the professional and government bodies, our "belt and braces" approach (which includes a sanitising fogging procedure) is to the highest standard we can achieve. What others do doesn't concern us
As always we strive to be the best we can be in all aspects of our business giving you the best and safest value for money driving lessons in the area
Steve Thompson - 21st Century Driving

Click on this text to start editing and enter your own text with some basic formatting. Just click anywhere outside the text box when you're done to continue working on the rest of your page. Elements like this text can often be hidden in the block settings.